Learning Management System is an effective tool to deliver online training, whether it is academic or professional. More and more organizations every day are opting a Learning Management System for managing and administering training to their employees. It is not only fast and effective but also provides centralized control and quality of content. There are a number of LMS available in the market and it is important for an organization to choose the right LMS for the successful implementation of learning strategy.
So how do you choose an LMS that's best suited to your organization need? In this article, we have enlisted 5 tips that can help you in selecting the best LMS option for your organization.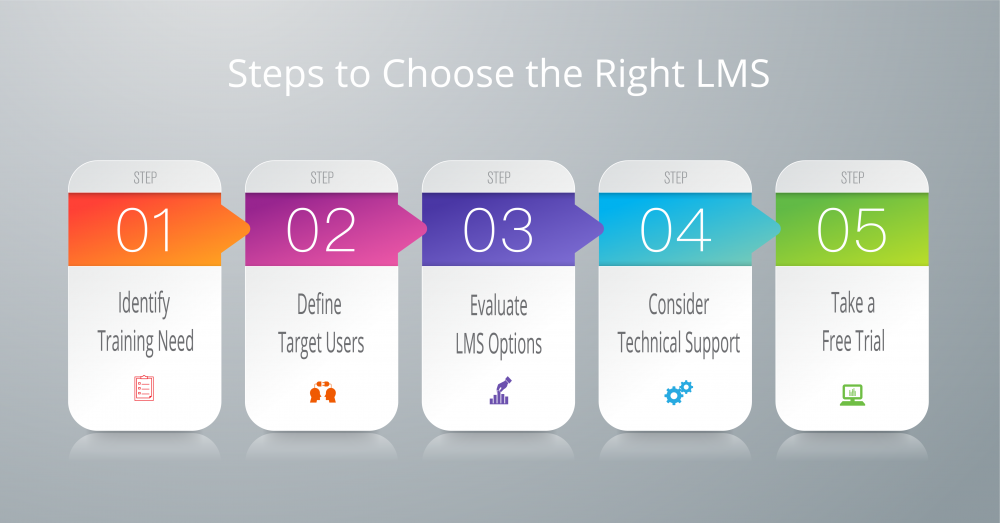 1. List your Training Needs.
Before purchasing a Learning Management System, you need to define and list all the requirements for an LMS. It is recommended for you to include different teams of your organization, such as trainers and IT specialists, in this process and take their expert opinion.
Some of the factors, you should identify are:
· What is the type of training you want to deliver – Compliance training, induction program, Sales enablement?
· How do you want to deliver the training - online, classroom-based, blended, mobile?
· What will be the content type of training – SCORM, videos, flash files, audio files, PDFs?
· How many users will you train using LMS – Fulltime, Contractual, Off-role employees?
· How do you want to deploy the LMS – On-premise or cloud?
· What is the budget for LMS?
Sort all these requirements by priority keeping opinions of all stakeholders in mind. Translate the requirements into LMS features, and you have your desired LMS feature list ready. You should also identify the non-negotiable features and required features like mobile-based access, Virtual-classroom, integration with HRMS or ERP, etc.
2. Keep your Target Audience in mind.
Think about your end users while finalizing requirements. If your end users are not tech-savvy, you will need an LMS which is feature rich but also user-friendly. There will be no use of the Learning Management System if your users cannot use it or your instructors and administrator find it a challenge to operate it. Features of LMS should be easy to use by all the people who are using, operating or administering the LMS.
Further, keep in mind the number of users logging into the system simultaneously and what devices they will use to access the LMS.
3. Evaluate available LMS options
Once you have listed all the requirements, keeping the end users in mind, you can evaluate the available LMS and select the one that fits best with your requirements. For the evaluation process, search for available LMS providers in the market and shortlist 8-10 for evaluation.
Compare the available LMS options on the basis of your requirement list by either taking a demo or a Free Trial. Check the availability of your non-negotiable features considering both your current and potential future need. Some features you might want to evaluate are discussion forums, assessment capability, gamification, and learning path. You should also compare the cost-effectiveness vis-à-vis your budget.
4. Consider Support and Maintenance
Remember a Learning Management System requires maintenance and troubleshooting if any problem arises. So, evaluate if the LMS solution comes with a dedicated support or if you have to rely on online guides and user forums to figure out solutions.
Further, you will need technical support if you want to add any features to the system or upgrade it in the future. If you do not have a robust IT team, you might want to consider a completely managed Cloud hosted LMS solution.
5. Importance of Test Run
It is always necessary to get a Free Trial of the LMS portal to verify if the features are working according to the requirements. It is best to ask for a free trial run before purchasing the chosen Learning Management System. It will give you a chance to test the setup in the context you will be using it and eradicate any problems or shortcomings in the system beforehand.
Final Word
The tips mentioned above will iron out the harrowing process of choosing the right LMS for you. The key is to prioritize your needs and your budget and then evaluating available LMS options to find one that fits best for your organization.
If you are looking for a completely managed Cloud hosted Learning Management System, Take a trip around MindScroll LMS by subscribing for our 15-Day Free-Trial.
---
LMS, Learning Management System, Cloud LMS, Offline Content Support, Multiple Device Support, Elearning, Education Industry, LMS Subscription Plans, LMS Evaluation, SCORM, Free Trial