For those who don't know, sales enablement is the process of helping the sales team sell more efficiently. This includes providing them with the right information, tools, and content to increase sales. Since the market is always changing; new services and products, new sales representative, new demands of customers, there is always the need to fill the gap.
One of the easiest ways is by periodically conduct sales training for the sales team; unfortunately, there are several challenges. Most training requires the employees to be away from the job for attending the conference and workshops. So, whenever a product is changed or a new sales representative is hired, there is a need for the sales team to spend time away from their job. This cycle results in a decrease in sales.
With the advancement of technology, it has become easy to keep the sales representative up to date on the products, compliance regulations, company policies, and services. One of the ways is to use a Learning Management System or LMS for sales training.
In this post, we have listed the top five ways to use an LMS for sales training.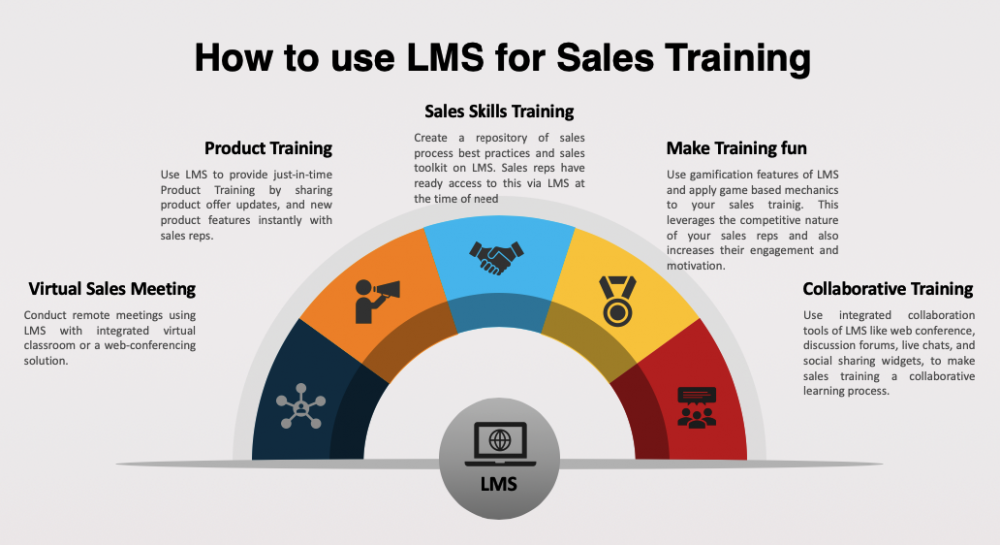 Using LMS for Virtual Sales Meeting
It is a known fact that having a sales meeting at the beginning of the day is crucial for preparing the salesperson for the successful day. This meeting is often used to plan a salesperson's day and also to provide updates to the sales team. Nowadays, with the technological advancement, the sales manager can have sales meeting remotely.
Using an LMS with integrated virtual classroom or a web-conferencing tool, the managers can conduct the daily meetings remotely and update the sales team without any difficulty. They will be able to track whether everyone has received the information or not.
Using LMS for Product Training
Sometimes, the sales representatives don't have the full information regarding a product feature or service. With LMS, Product training can be provided Just-in-time which makes it more effective. The representatives will have access to the information of all the products.
The important information about the product, sales process, and best practices can be updated in the content library. This will enable the sales team to check these anytime during the day at their own convenience.
Moreover, whenever the product is updated, the information can be updated and sent to the salesperson. With a mobile-compatible LMS, the salesperson can access the information using any mobile device instantly. It will help them provide relevant information to the clients right on time.
Using LMS for Sales Skills Training
Sales skills training or training sales representatives on how to sell is undoubtedly the most challenging task. It is also believed that sales skills training requires a practical learning environment which is difficult to replicate in an online training.
However, this isn't always true. With the help of an LMS, an organization can share a library of best practices in sales and sales toolkit with sales representatives which they can access at the time of need. You can also ask the salesperson to record and upload their sales pitch, live customer calls, and product demos and send them for review. Managers can then provide feedback on the submissions which can help the salesperson in improving the sales skills further.
You can also conduct periodic assessments including qualitative and quantitative scores and feedback to review the sales skills of the sales team.
Making Sales Training Competitive and Fun
One of the ways to increase sales training adoption is to make it fun and competitive. Applying game-based mechanics to learning activities helps organizations to leverage the competitive nature of their workforce and increase learners' engagement and motivation.
A Learning Management System with integrated Gamification module can be used to add a competitive element to the sales training. Using LMS, you can link exciting elements like Points, Badges and Rewards to learning milestones of sales training. This helps in motivating the sales representatives to learn and perform well and boosts their completion percentage and scores.
You can run a weekly contest or competition and create leaderboards that will display who have completed what sets of training along with their rank. In this way, the representatives will take extra courses for taking the lead. Hence, it improves competition.
Making Sales Training Collaborative
Thanks to LMS, you can enable sales representatives to learn together by sharing knowledge and opinions; it makes learning not just efficient but fun too. An LMS integrated with collaboration tools like web conference, discussion forums, live chats, and social sharing widgets offer opportunities for sales staff to engage in a collective learning process.
It gives rise to a social and friendly environment at the workplace while making learning possible at the same time. It is easier for salesperson to raise questions on a discussion forum and initiate a conversation on a social platform about the training.
Final Word
A Learning Management System is an innovative and excellent way to train your sales team. It helps in increasing the effectiveness of the team and is an invaluable tool for ongoing sales enablement.
Using an LMS, you can conduct Product Training, Sales skills training, and virtual sales meetings to empower your sales team with the content, tools, skills and knowledge that they need to be effective in their roles.
Looking for a Learning Management System to implement Sales Training? Schedule a demo today with our learning experts and explore MindScroll LMS.
---
LMS, Learning Management System, Cloud LMS, Sales Enablement, Sales Training, Product Training, Discussion Forum, Gamification, Sales Skills, Virtual Classroom, Sales Process