The Learning and Development (L&D) landscape has evolved over the years from traditional classroom-based training to web-based training to now mobile learning. While the classroom and web-based training models work quite well, they still suffer from limitations of time and resource constraints and lack of mobility.
Mobile learning or Mlearning helps replace the rigid structure of traditional systems and provides a great learning experience to learners.
With increased millennial workforce in the corporate world, Mlearning is particularly helpful as it allows learners to better understand ideas and acquire new skills even outside the workplace.
A mobile learning app with a robust learning management system at the backend allows learners to study whenever and however they want. They can also track their learning progress, go back and repeat the stuff they still need to work on, if needed.
So what can we expect from the future of Mlearning?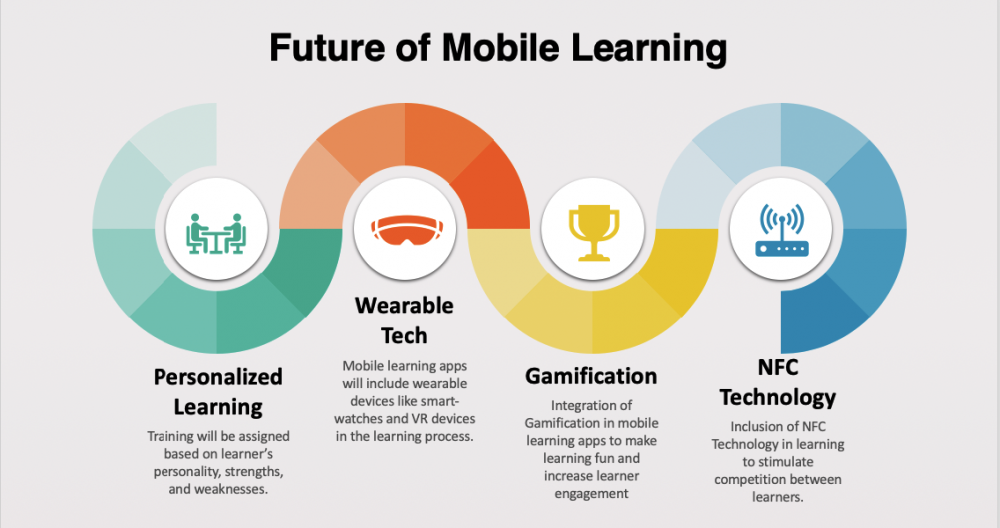 More Personalized Learning
The first thing that is expected to happen in the case of Mlearning is that the entire process will be more personalized. The learner will receive training based on his personality, strengths, and weaknesses. There will be an assessment created to figure out all of this beforehand. Technology will be used to figure out what learners need to focus on to improve their strengths and eliminate weaknesses.
Integration with Wearable Tech
With increasing evolution and success of wearable devices, these are sure to be included in the future of learning. The latest mobile learning apps will also focus on including wearable devices like smartwatches and VR devices in the learning process. This will prove to be especially helpful when it comes to social learning or learning complex 3D concepts via augmented reality.
Learning made Fun using Gamification
We can also expect Gamification to be completely integrated in all mobile learning apps. Gamification is very helpful for learners, as it offers a sense of achievement and progress just like video games. This makes the learning fun and increases the learner engagement.
Inclusion of NFC technology
It's also possible that the NFC technology will also be used for Mlearning. Right now the NFC tech is all about mobile payments, but it could also be used to stimulate competition between learners. It will require learners to test their knowledge against others. This can bring in the competitive boost your learners need to learn faster and better.
Will Mlearning grow in the near future?
The Mlearning is expected to have a massive growth, especially in the next decade. One of the driving factors behind that is the next generation of millennial workforce who are mostly on the go with flexible schedules and remote work.
With more and more mobile learning apps available on the market, it's safe to say that Mlearning can represent the future of education. While the system is not perfect right now, future mobile learning apps powered by a robust learning management system at the backend will be able to capitalize on that. With increased support for additional devices and technologies, Mlearning can definitely become the norm when it comes to learning anything online or offline!
If you are looking for a Learning Management System which supports mLearning, you can explore MindScroll LMS. Take a 15-day Free Trial, download our mobile app and experience the process yourself.
---
LMS, Learning Management System, Cloud LMS, Gamification, Latest Technology Trends, Learning Technologies, Personalized Learning, Wearable Devices, NFC Technology, Mobile Learning, MLearning, Mobile Learning Apps, Learner Engagement, Millennial Workforce