Today, Organisations are increasingly using learning management system or LMS for corporate learning. Choosing the most suitable LMS for your organisation can be a tough task. There is always a debate whether to go for an Open Source Learning Management System or a Commercial one.
So, what is an Open Source LMS?
Like the name suggests an Open Source LMS has an open source code that you download and access for free. The most popular example is Moodle - a feature-rich platform with community support. Though, originally designed for academia, Moodle has found its use-cases in corporate learning as well.
Open Source LMS like Moodle offers the prospect of implementing a Learning Management System at a very low cost. This makes it an attractive proposition for small organisations with limited budget. But, one should consider both their benefits and challenges before making the final decision.
To help you with your decision we are enlisting the pros and cons of an open source learning management system: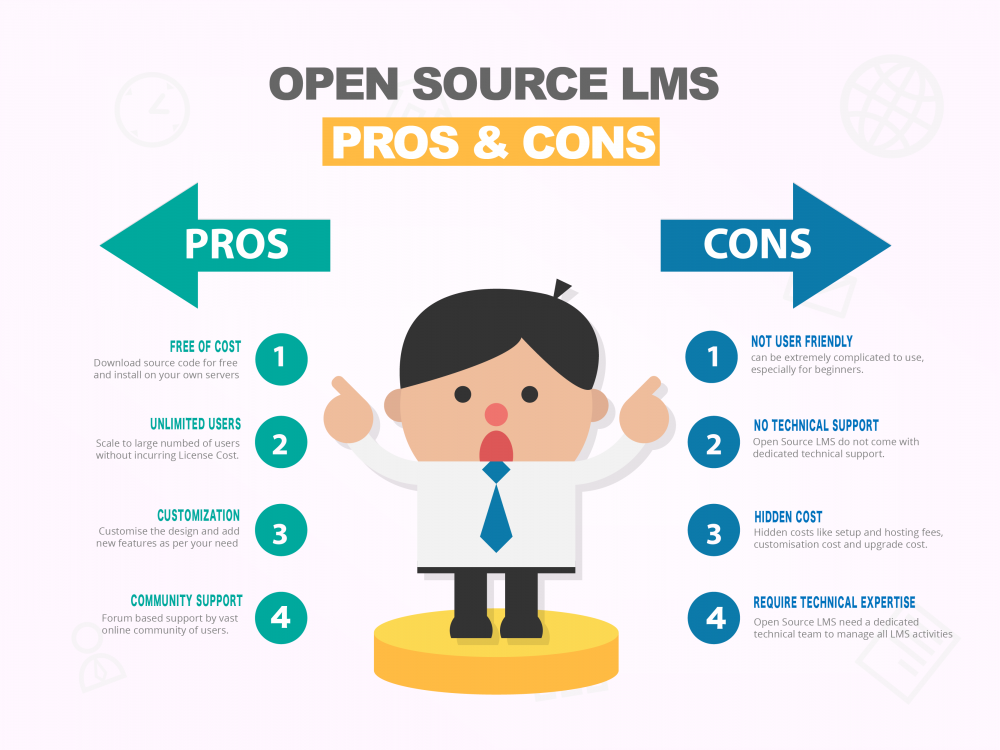 Pros
1. Free of Cost
The most important benefit of an Open Source LMS is that it is available for free especially its basic version. You can download the source code for free and install it on your own servers.
2. Unlimited Users
Open Source LMS can be scaled to large number of users without incurring any license cost. You can add as many users in the system as you want and without paying extra charges for extra users.
3. Customization
Open source LMS offers flexibility, as you can customise the design and add new features as per your need. In the case of Moodle, there are a lot of add-ons and plugins available which enable you to customise the software.
4. Helpful Community
Open Source LMS are typically managed by a vast online community of users and the support is largely forum based. The community users readily help in addressing queries and suggesting solution. There are also a lot of resources and help guides available online to guide the users in case of need.
Cons
1. Not User Friendly
Open Source LMS, in most cases, can be extremely complicated to use, especially for beginners. The UI is usually complex and not user friendly which makes it difficult to administer. Further, they tend to have an overly complex deployment procedure and it needs technical skills and knowledge to upgrade and customise the LMS.
2. No Technical Support
Unlike the commercial LMS, Moodle and other Open Source Learning Management Systems do not come with a dedicated technical support. Most support is forum based, and its often hard to find a solution within a stipulated time frame.
As the customization and administration of an Open Source LMS is your responsibility, you have to do de-bugging and upgrading of software on your own. There are tutorials available on the internet, but it may take time to understand them and solve the problem. You will need to have a dedicated technical team for administration and support or you will need to hire someone to do it for you but it will again cost you money.
3. Hidden Cost of Deployment
Though an Open Source LMS does not have any license fee, there are other costs like setup and hosting fees, customisation cost, support and maintenance charges, and upgrade cost that you have to incur while implementing one. You have to manage the maintenance and support on your own or you have to hire someone to do it for you which will cost you money.
4. Need Technical Expertise
Open Source Learning Management Systems are not 'out of the box' solutions. Right from installation to deployment to administration and support, they need a dedicated technical team to manage all LMS activities. At many organisations, it can be difficult to have someone with dedicated time for LMS, especially with small IT departments.
Final Word
Open Source Learning Management Systems offer a cheaper alternative to commercial LMS. They also offer greater flexibility to customise and personalise the LMS. But they also come with hidden costs of setup, hosting, maintenance and support. There is also an added responsibility of maintenance and support.
If you have a technical team in-house to support with installation, hosting, maintenance, support and upgrade activities, you can explore an Open Source or Free LMS.
In case you are looking for a hassle-free installation, maintenance and upgrade experience, Cloud LMS would be your best bet.
To dive deeper into the practical world of Cloud LMS, take a trip around MindScroll Free Trial and experience the process yourself.
---
LMS, Learning Management System, Cloud LMS, Open Source, Moodle Alternative, Moodle, LMS Pricing Models, LMS Subscription Plans, LMS Implementation