Managing remote employees can be quite challenging. Scheduling meetings, keeping everyone accountable, and working toward the same goals can be hard to achieve. There can also be trust and collaboration issues.
But working virtually has its own advantages as well. Such as an increase in employee productivity and retention and improvement in job satisfaction. Plus, companies can save more than $10,000 annually (Global Workplace Analytics).
Given the current COVID-19 crisis, many companies were forced to switch to remote working. Besides, virtual teams are becoming more and more common and are here to stay. Working from home will also become the norm in the future.
So, what are the common challenges faced in leading a team remotely? What are the tips, solutions, or best practices to overcome them? Here are the top 3 challenges of managing remote employees and ways to solve them:
Challenge 1: Communication issues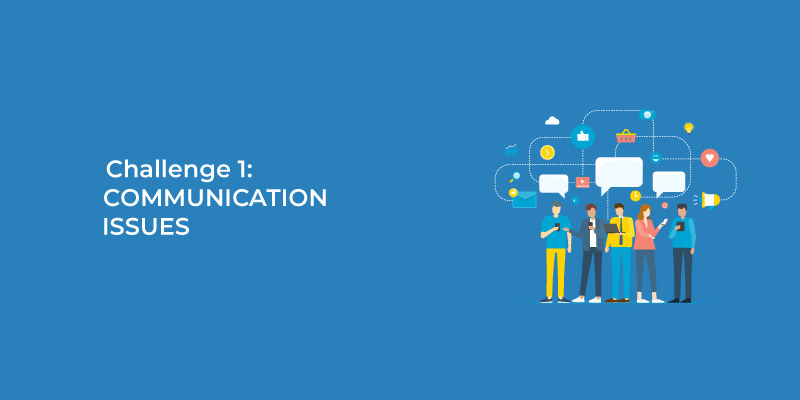 Communication is the key to success in the workplace. It can also become the cause of many management problems. So, it's essential to foster a collaborative culture, pay close attention to relationship-building, and use the right communication tools. There should be a free flow of communication where managers can easily get input from all members and know what each individual is working on.
Managers and other team members need to have a good understanding of what's happening within their teams, at all times. They are also responsible for giving their team a clear sense of direction for any project or task.
Effective communication is even more crucial for remote teams since without it they cannot function. Coordinating strategies, goals, and milestones to virtual teams can also be a challenge.
It can be difficult to foster open communication and coordinate with virtual employees. Due to which employee productivity, morale, and work progress can suffer. Plus, employees can also feel a sense of isolation from the team and company.
Solution 1: Set up the right tools
Create a dedicated place for communication by using the right corporate communication software. This includes email, chat, instant messaging, phone, and video conferencing tools.
Make use of internal team communication tools like Slack or Google Hangouts to stay connected with your remote workers. You can use MindScroll's integration with Slack and encourage your team members to use it to interact with each other.
Slack can be a great space for your team to ask questions, and manage tasks to completion. You can review your messaging history and setup frequently asked questions. This will help new virtual hires easily find answers to issues that they might be facing. You can also see who's working on what and their progress with Slack's channels for individual projects.
Consider using Zoom or GoToMeeting for high-quality video/audio conferencing. You can conduct virtual classes and schedule remote meetings with MindScroll's integration with Zoom.
Short daily meetings can also be done on Skype. This will give a chance for virtual employees to feel like part of a team and will allow them to interact with each other in real-time.
But, keep in mind that not every tool will be a good fit for your team. You will need to do a trial of tools or research all the options to find the best tools. Then you will have to provide training on the tools you choose to ensure your team members use them properly.
In the end no matter what tool you use, as long as it encourages two-way communication, remote workers won't feel isolated from one another.
Solution 2: Develop a culture of communication
Communicating with direct reports and helping your virtual employees communicate with each other can be very challenging. It can be even more difficult for managers who are used to hands-on management. But, actively pursuing open communication in remote working is essential.
Lead by example and develop a culture of communication in your company. Give regular updates and hold regular check-ins with your staff. This will ensure that they do their jobs well. Get frequent feedback from your team and find out if they have communication issues. You could set up weekly team/employee email check-ins and monthly team conference calls.
Encourage open lines of communication between you and your team. Consistently track them throughout the day. Have an open-door policy and encourage your employees to reach out to you with their ideas, thoughts, queries, grievances, or problems. You should be responsive and available as you would to any on-site employee.
Provide clear guidelines which state what kind of communication should happen on which platforms and how team members are expected to interact with one another. Also, address language and time barriers directly.
Further, it's important that you clarify each remote team member's role as much as possible. Such as their KPI's, job descriptions, available resources, and what is expected of them. Clarifying these details is essential since they have no other source of information.
Another practical yet time-consuming suggestion is to check for understanding after each virtual meeting. This will make sure that the staff knows what their next steps are and will ensure that important details don't get overseen, skipped, or misinterpreted.
Challenge 2: Tracking performance and productivity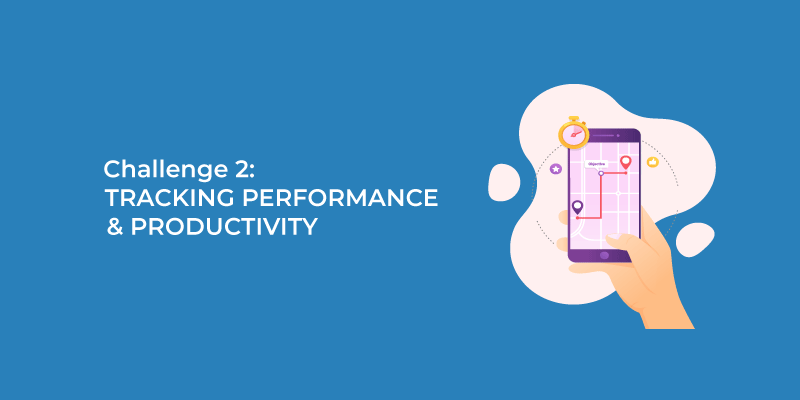 Low productivity is an obvious risk when employees work remotely. Some team members may not use their time wisely. Other members may face burnout due to a lack of boundaries. Plus, not keeping track of how much work your remote team is getting done, and at what rate will cause significant problems to a company.
It's also difficult to know if a team member is being underutilized without an understanding of their productivity. This can lead to monitoring and tracking team performance becoming a major challenge for managers especially if they're unprepared.
Tracking your staff performance can also be hard since remote worker performance is split into two categories - those that have to work and finish tasks on schedule and those that have to work for a set number of hours a day. You also have to keep a check on employees to ensure tasks are as per company standards and are done on time.
Solution 1: Have open communication and clear expectations
Keep an open channel of communication between you, employees, and customers. This is important for customer-facing employees. Since with a good communication system, you will quickly know if customers are satisfied with the services or not.
In remote working, you never know exactly how your staff is getting work done. So, it's also crucial for you as the manager to be clear and transparent with what you expect from your remote teams. Such as if you expect them to work during the set hours or if you are only concerned with the result being done on time.
Solution 2: Use employee productivity software & ensure accountability
Use good remote team management tools to get quantitative data on your remote team's efforts and track the work that they do. You could see screenshots to know which projects are being worked on or you could see their current work status. This will motivate your staff to stay active and engaged. This will also improve team productivity and make it simpler for you to explain if you're not happy with someone's work or if they're lagging behind in tasks.
When employees are working from home, it's not easy to know when they actually work. Some may cut back their work time and others may get overworked. And if you don't have a tracking system in place, you are left to trust employees on the basis of what they say.
You can use project management and attendance tools which will make managing remote staff much easier. You'll know exactly how long they work during the day and how long they work on each task. Apart from this, assign clear deadlines and make the difference between soft and hard deadlines known to your remote staff to avoid a negative impact on the team.
Establish protocols around what employees should do when they struggle to finish projects on time. Also, create a culture of positive feedback and appreciate the good work of your workers. As it can be hard for employees to feel like they're on track in a virtual environment.
Further, don't wait to address an issue where someone is struggling with deadlines or tasks. Act quickly and give them direction to get them up to speed.
Solution 3: Form supportive structures and develop processes
Pay special attention to your best performers. This is because these employees may be at risk of overworking themselves due to a lack of clear office boundaries. They may also build resentment towards the company due to exhaustion and burnout. Lower work quality, erratic or moody behavior, and emails sent at odd hours are all signs that they need to take a break.
Encourage your remote staff to keep regular office hours and take benefit of their paid time off. Conduct regular remote meetings to not only make your staff accountable but to also check their workload and give support when needed.
Have group check-ins each day to keep your team on the same page and to hold all members accountable for their tasks and projects. Set up monthly or quarterly meetings of managers with employees. This will take the stress out of sudden meetings and give your staff an allotted time to talk about their progress and problems. This will also develop transparency, collaboration, and productivity in teams.
Challenge 3: Lack of trust and cohesion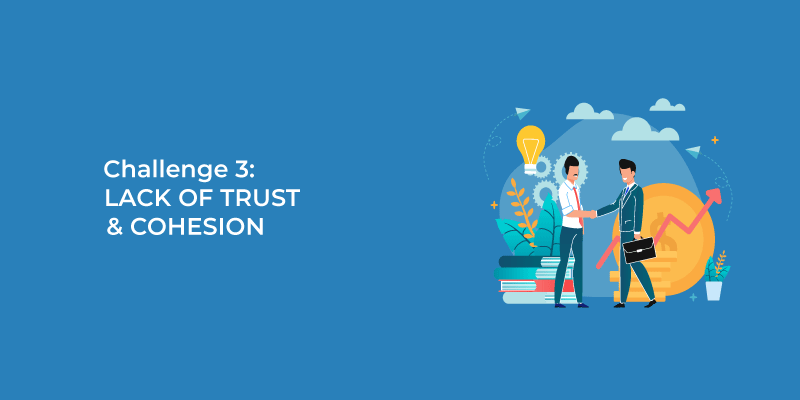 Trust and cohesion are very important for a team to function smoothly. Yet building trust can prove challenging for virtual teams and managers. It can be hard to constantly work towards a shared vision.
Managers may worry that employees aren't completing their work while employees may have other concerns. Managers who like to micromanage may never like the freedom that remote staff gets to complete tasks at their own pace with their own working styles. While workers may perceive a lack of transparency due to which they may become frustrated at the higher management.
Fewer face-to-face interactions can also lead to trust and collaboration issues for both parties. So, managers will have to start trusting their staff and give them more freedom. It will also become crucial for you to focus on strategic team-building and trust establishing activities.
Solution 1: Encourage collaboration and team-building
Encourage collaboration and team building. This will help your remote team bond and build trust. Also, clearly define teams and make sure that your team members know to whom they have to report.
Remember that constant communication is vital to getting the most out of your remote workers. Also, managers should ensure that each of your employees has a clear idea of what the company is working towards. This will set the expectation that people should be working collaboratively and towards a shared goal. Otherwise, there will be less cooperation and more confusion among your staff.
Have regular team meetings via video conferencing as these meetings will help build familiarity and a sense of community. Such face-to-face virtual meetings and regular communication will be the next best thing to meeting in person. As it will create feelings of bonding and trust within your employees.
You can also build trust can by being transparent about expected working hours, deadlines, workload expectations, pay rates and structures, and even the policy on taking sick leaves.
Solution 2: Establish a shared goal
Have a shared goal (or goals) with your remote team members. These goals may either be related to your business goals or it may be up to you and your team to establish your goals. Make it clear to your employees how these common goals will be achieved.
Also, have a common understanding of how progress will be measured. And use video conference meetings to get to know each other better as colleagues and work through a strategic planning process.
Solution 3: Provide regular feedback
Give regular feedback to your employees to address any problems or challenges that they might be dealing with. This will help fix problems early on and will result in satisfied employees who become top performers in their roles. This will also help your managers develop trust with their employees and provide them the flexibility required to make remote teams work.
Be there for your employees. Have the right company culture that will make your staff feel heard, valued, and trusted. And while it is important to trust your employees but at the same time use an attendance and time-tracking tool as well. This will keep people accountable and will help your staff feel confident in the hours they put in.
Now It's Your Turn
We hope this blog article helped you understand some of the common challenges when working remotely and ways to solve them.
Now we would like to hear what you have to say.
Which solution from this article will you try first?
Or
Maybe you already know of other effective solutions.
Tell us your thoughts or Share this blog post. Find us below:
Facebook (@MindScroll) | Twitter (@mindscroll_lms) | LinkedIn (@MindScroll) | Instagram (@mindscroll_lms)
Switch to remote working with MindScroll LMS. Learn more here.
Want to learn more about working from home in the coronavirus crisis?
Read next: Coronavirus and Working From Home: The Ultimate Guide to Keep Your Employees Engaged
Check our blog for resources you and your remote team may need.
---
LMS, Learning Management System, Cloud LMS, Digital Learning Tools, Virtual Meeting, Training Management System