A great learning management system should not only simplify your training process but also the management of your tasks. In most LMS's, tasks like adding users, content, and courses have to be done by the super admin. This quickly becomes an issue as it's quite an overwhelming and tedious job for the super admin who already has to oversee the entire LMS's setup, administration, and operations. This is where MindScroll LMS's multiple sub-admin feature comes into play where you can assign specific tasks and give an appropriate level of access and permissions to multiple sub-admins to manage them.
Read the article below to learn how you can use MindScroll's multiple sub-admins feature to greatly reduce the workload of your managers and effectively delegate tasks to them.
How are MindScroll customers benefiting from the multiple sub-admins feature in Mindscroll LMS?
1. Easier for internal managers to perform basic tasks
Convenient for internal managers (multiple sub-admins in MindScroll LMS) to perform basic tasks by themselves like adding and enrolling users, adding content, creating courses, viewing reports, etc.
2. Less dependency and workload on central managers
Not everything is rested with the central manager (super admin in MindScroll LMS) who earlier had to manage users, content, courses, and other routine and repetitive tasks all by themselves.
3. Ability to create as many sub-admin users as you want
No user limit and no extra fees and costs on the creation of multiple sub-admin users unlike other LMS's which charge for each admin account that is used.
4. Ability to create sub-admins users with custom permissions
Creation of multiple sub-admins who may only have permission to access and perform specific tasks in the admin dashboard. This ensures that all of the parts of the LMS are only being managed by the users you assigned to manage them.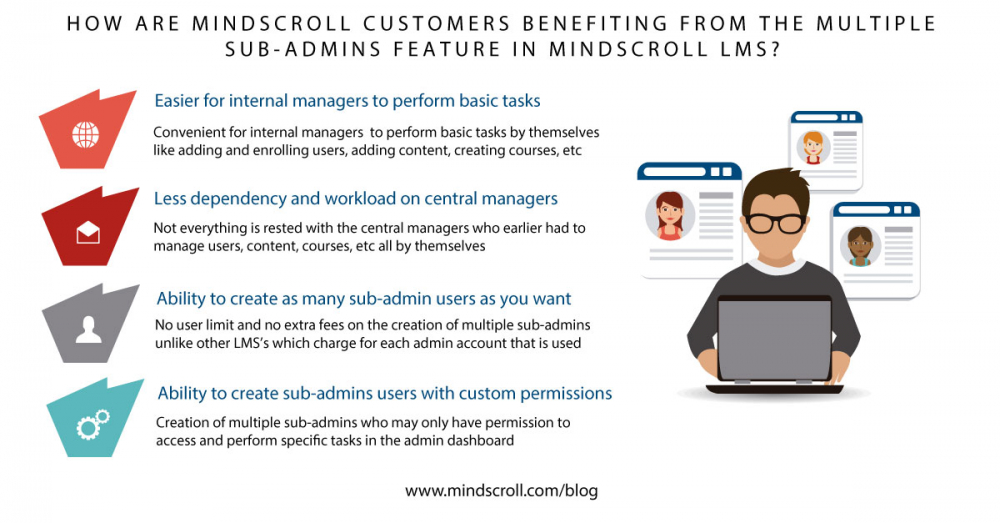 How does the multiple sub-admin feature in Mindscroll LMS work?
1. Create as many sub-admin users as you like
Along with managing the entire learning platform, as a super admin, you can create and manage multiple sub-admins with custom user roles. Such as supervisor, instructor, regional admin roles, and more.


2. Control the level of access to sub-admins
Delegate tasks, authority, and administrative abilities to sub-admins as a super admin. Control how much access and functions you want to give to sub-admin users with custom access type and level.
So are you ready to simplify your learning platform? Make the switch to MindScroll - a next-generation LMS for your employee training today!
Check our blog for resources you and your team may need.
Read next: 5 Tips to increase adoption of Learning Platform in your organization
---
LMS, Learning Management System, Cloud LMS, Open Source, Learning Platform, Learning Technologies, Training Administration, Course Management, User Management, Elearning