The recent COVID-19 pandemic caused many organizations to quickly go live when they had never considered doing so earlier. Many companies had to immediately stop conducting face-face training and meetings. Plus with the significant increase in employees who had to work remotely, many organizations had no option other than shift from traditional classroom training to virtual training. At MindScroll LMS we made it a smooth transition for many companies. Using our virtual classroom capability we helped many organizations with seamless employee training scheduling, management, and delivery in less than a week! But even now in this post-pandemic world, virtual classroom holds the key to making employee training efficient.
Ready to know more? Keep on reading to learn how you can create, manage, and deliver hassle-free virtual training in just a few clicks with MindScroll's virtual classroom capability.
How are MindScroll customers getting ahead of the COVID-19 3rd wave by moving to MindScroll LMS's virtual classrooms?
1. Upskilling
Virtual classrooms have helped to fill knowledge gaps within organizations and kept remote and work from home employees effectively attending live classes from any device and location.
2. Training continuity
Our integration with video conferencing tools like Zoom, Google Meet, and Microsoft Teams has helped our customers to continue their training without any interruptions amidst the pandemic.
3. Quicker onboarding
Virtual classrooms have helped our customers to quickly switch to digital training, schedule meetings, and manage all their training virtually in almost less than a week
4. Ease of use
Virtual classrooms have been easy to start, adopt and collaborate on all devices. Further with all meetings, trainings, and communications on just one platform has made management of virtual training easier for our customers.
5. Better flexibility
Virtual classrooms have provided great flexibility to both participants and instructors where learners get access to both live and recorded instructor-led training sessions from anytime, anywhere.
6. Cost-Effectiveness
Virtual classrooms have brought down training costs considerably compared to traditional one-off training courses that needed to be paid for each employee and had other costs related to training venue etc.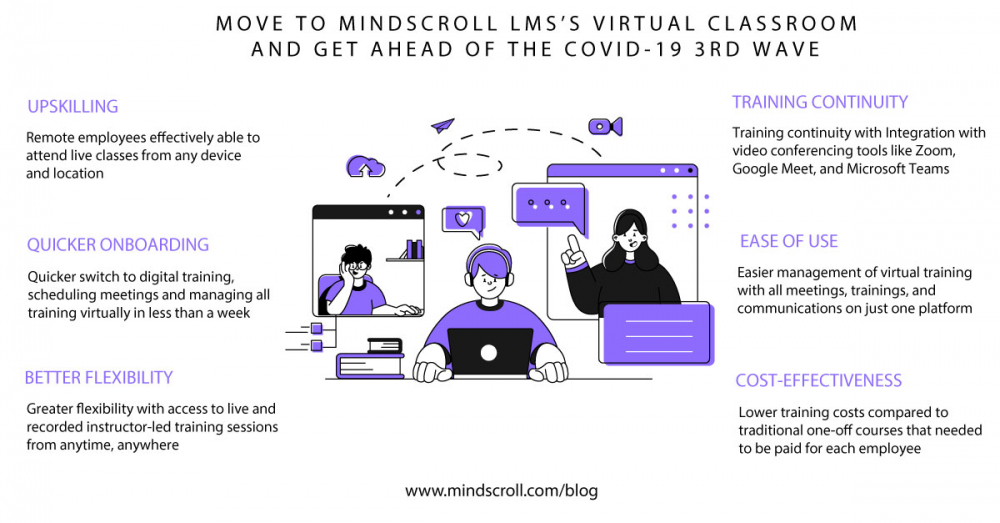 How does the VILT feature in Mindscroll LMS work?
1. Create and schedule live virtual classes
You can easily create, edit, and schedule live virtual classes. Set your own class duration and choose if you want to record the meeting, enable join before host, or allow only authenticated users to join, and more.
2. Launch a live virtual class with one click
When it's time for your live class to start, a meeting passcode is generated. After clicking on the Join Live Class Now button you are redirected to Zoom where you have to enter the same passcode to launch the live class.
Implement virtual classrooms to make your training more efficient and accessible from anytime anywhere! Get your employee training back on track with MindScroll LMS today!
Check our blog for resources you and your team may need.
Read next: How MindScroll LMS lets you easily create and manage multiple sub-admins in your organization?
---
LMS, Learning Management System, Cloud LMS, Open Source, Learning Platform, Virtual Classroom, Latest Technology Trends, Learning Technologies, Virtual Meeting, ILT, Instructor Led Training, Elearning