Learning Experience Platform (LXP) is like "Netflix for learning" according to Josh Bersin, one of the leading eLearning industry experts. Now you can incorporate the same personalized approach of Netflix and YouTube into your employee training programs with MindScroll's powerful LXP feature.
Empower your employees with a modern, user-friendly interface and enjoyable user experience. Make it easy for your learners to access training courses that actually match their job roles and skills. And bring in those disconnected and disengaged employees back on track.
Ready to know more? Keep on reading to learn how you can provide a personalized learning and user-centric experience for your employees with MindScroll's powerful LXP feature.
How are MindScroll customers benefiting from MindScroll LXP?
1. Personalized content which is relevant to users
• Learning becomes easier and faster
• Employee engagement, satisfaction, and retention increases
• The onboarding process becomes more efficient
• Learning becomes more independent and continuous
2. Faster access to learning content
• Content is more searchable and accessible
• Learning is more organized and structured
• Course completion rates increase
• User experience is easier and more enjoyable
• Employees are more willing to regularly upskill and reskill themselves
3. AI-enabled smart recommendations for learning courses
• An optimal user learning experience is created similar to Netflix and YouTube
• Users can easily discover content that meets their learning needs
• Users' training course recommendations are improved
• User learning pathways are improved with automatically selected customized content
• Learning engagement and effectiveness increases
4. Intelligent content curation from different sources
• More variety of relevant and meaningful learning content available for users
• Less work for admins without needing to take the time or budget to create new content from scratch
• Rich and meaningful learning experiences are created that will truly impact user and company performance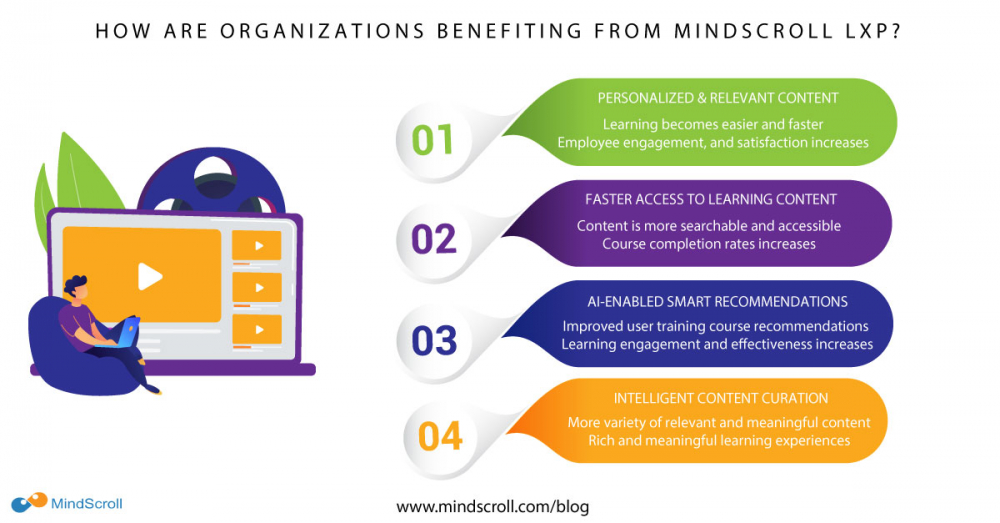 How does MindScroll LXP work?
1. Create and manage designations and skills
Super admins can easily create and manage designations along with their associated skills for different training courses in the LXP section. This ensures that the recommended courses provided to users actually match with their specific job titles and skillsets.
2. Curate training content from internal or external resources
Curate training content from internal resources in the LMS or external resources like CrashCourse, etc. Users can then view their suggested courses based on their particular job roles, skill types, and skill levels. Or they can view all the listed course content in the Course Library section. This type of highly customized curation ensures that learning is practically useful to users.
3. Easily search and filter from all available training courses
Users can search from all training courses in the Course Library or filter a particular training course with the Change Designation option based on their specific job role, skill type, and skill level. After which MindScroll LXP will pick out a list of recommended courses that best suits the users in the Suggested Courses section. This helps to provide relevant and valuable content to users so that they keep on returning to the platform.




Unleash the power of LXP for your employee training now! Get the most out of MindScroll today!
Check our blog for resources you and your team may need.
Read next: How MindScroll has gamified its LMS platform to enhance user activity?
---
LMS, Learning Management System, Cloud LMS, Learning Platform, Latest Technology Trends, Learning Technologies, Personalized Learning, Learner Engagement, Employee Engagement, Elearning