It is critical to implement a Learning Management System or LMS to design and deploy e-learning in an organization. It allows for improving the skills of the workforce, so they can offer better productivity and performance for the business. While there are traditional learning and development methods that work wonders but the digital age has allowed for better ones.
The advanced learning technologies for corporate learning have been around for some time. Both old and new trends have emerged in 2018 and modern Learning Management System supporting the emerging technologies will support the corporate sector to gear up for improved employee development.
Let's look at some of the Corporate Learning Management System trends of 2018.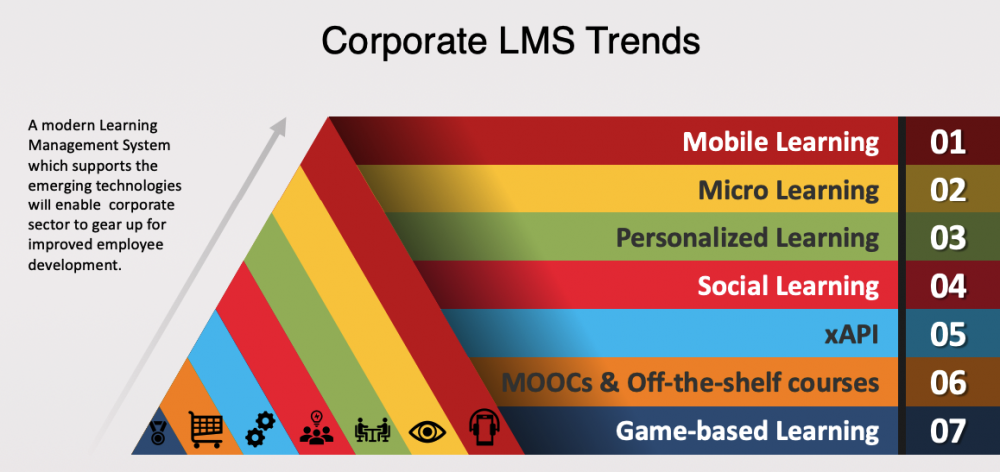 1. Mobile Learning
One of the major changes in learner behaviour, over last year or so, is the increased use of mobile phones to access information online. This has led to the inclusion of Mobile learning or mLearning in the corporate learning strategy and Mobile learning has emerged to be a notable trend this year.
A Mobile LMS allows employees to learn anywhere, anytime by offering a consistent learning experience across all mobile devices. Employees find this more feasible as learning resources on a mobile device can be accessed at the time of need. It fits perfectly with the 'on the go' lifestyle of millennials. With offline content support, a mobile LMS allows learners to access learning content even without the internet and syncs their learning progress when they come online next time.
2. Microlearning
Microlearning using bite-sized learning videos or podcasts ranging between 60 seconds to 2 minutes was incredibly appreciated in 2017 and the trend continues this year.
With attention spans getting shorter and learner's preference for video learning content, microlearning represent the next emerging learning trend. Recent studies have demonstrated that learners retain more when they learn in bite-sized pieces. Instead of attending a day-long training session, learners prefer watching short two to five minute videos which teach them specific one or two skills at a time.
3. Personalized Learning
Not every employee has the same learning and development requirements. Personalized learning is focused on defining a customized learning path for each employee based on their competency and development areas.
A modern LMS should allow provision of measuring competency of each employee and should allow creation on customized learning path based on rules.
4. Social Learning
If employees can learn together by sharing knowledge and opinions, it makes learning not just efficient but fun too. A corporate LMS integrated with collaboration tools like web conference, discussion forums, live chats and social sharing widgets offers opportunities for employees to engage in a collective learning process. It gives rise to a social and friendly environment at the workplace while making learning possible at the same time. It is easier for learners to raise questions on a discussion forum and initiate a conversation on a social platform about the training.
---
LMS, Learning Management System, Micro Learning, Cloud LMS, Gamification, Employee Development, Latest Technology Trends, Learning Technologies, Corporate Learning Strategy, MOOCs, Corporate LMS, TinCan API, xAPI, Personalized Learning