Are you facing challenges in administrating assessments? Traditional pen and paper assessments have many issues such as inaccessibility to users, non-customization of questions, high cost in administering exams. Further creating test papers, conducting exams, analyzing test results can be a very lengthy process in traditional assessments. Now you no longer need to do assessments manually. MindScroll LMS comes with advanced reporting and assessment functionalities that make work easy for you. You can quickly create, deliver, evaluate, and analyze online tests. You can also categorize your learners by skill and knowledge, allowing you to customize your training courses.
Read the article below to learn how you can use MindScroll's advanced assessment capabilities to effortlessly create questions, conduct online exams, evaluate user progress, assess course effectiveness, and a lot more.
How are MindScroll customers benefiting from online assessments in MindScroll LMS?
• Fast online assessment and generation of results
• Easy creation and maintenance of online question banks
• Ability to support multiple types of questions
• Randomization of questions to prevent cheating
• Remote exam proctoring via audio/image/video recordings
• Quick test paper creation and exam scheduling
• Detailed reporting of the user, course, and assessment progress
• Easy tracking and storage of assessment results
• Training customization with user categorization by skill and knowledge
• Secure access to test papers, user details, and assessment data
• Low administrative costs and resources for exam creation, delivery, and tracking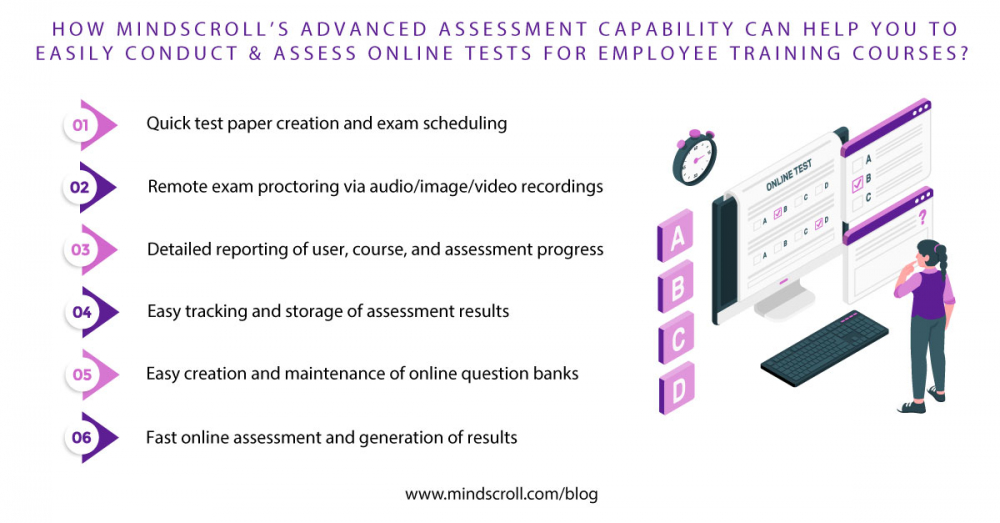 How do online assessments work in Mindscroll LMS?
1. Create different types of questions
Make all types of questions from multiple-choice, true and false to subjective short and long questions, and more. Create and manage online question banks by bulk uploading questions.
2. Create test papers and schedule exams
Create online test papers in minutes. Schedule exams by defining start and end times. Evaluate test papers using automated marking for objective papers and admin manual marking for subjective papers.
3. Remotely proctor online exams
Remotely monitor exams using user image capturing in intervals through webcam. Or monitor users during live exams using Google Meet Live. Verify the identity of users at the beginning of exams. Use the Prevent Tab Switching button to prevent the opening of other tabs. Set unidirectional enforcement, randomized questions, negative marking, and more.
4. Review assessment results


Review, track and store subjective assessments submitted by the users within different courses. Evaluate the number of correct and wrong questions answered, view answers for each question, and time spent by users to complete the exam.
5. Utilize advanced reporting features
Get detailed reports on users, courses, and test papers. Gain insight into total user attempts, assessment/course/user progress, course start and completion rates, and more. Easily print and download all reports.
Get rid of tedious paperwork in traditional assessments. Quickly create test papers, schedule, and proctor exams. Utilize our powerful online assessment tool for employee training by switching to MindScroll LMS today!
Check our blog for resources you and your team may need.
Read next: Is the COVID-19 3rd wave posing a threat to your training continuity? Use Virtual Classrooms on MindScroll LMS to quickly convert and conduct your training seamlessly
---
LMS, Learning Management System, Cloud LMS, Open Source, Learning Platform, Assessment Engine, Latest Technology Trends, Learning Technologies, TMS, Training Management System, Training Administration, Online Assessments, Course Management, User Management, LMS Evaluation, Training Effectiveness, Test Paper Generator