With the pandemic, many organizations worldwide were forced to explore online learning platforms in order to shift to remote learning. Today remote working or hybrid working is the reality that many firms have to accept. In fact, 75% of firms have moved their corporate training to cloud-based learning management platforms (LinkedIn Learning 2021). This has led to more and more organizations using remote learning to provide employees with access to online training and control their progress.
However, with remote learning, there were employee training challenges that had to be dealt with as many organizations were used to conventional classroom training methods. Moreover, a remote workforce only thrives when remote learning is effective. This can be made possible by a robust learning management system (LMS). The right LMS can ensure that remote learning is successfully implemented and training can continue without any distance or time barriers.
A robust LMS can provide a seamless remote learning experience which can drive higher adoption of training for remote employees leading to greater business success. In today's blog post, let us discuss the top 4 features that should be present in your LMS to support remote learning in 2022.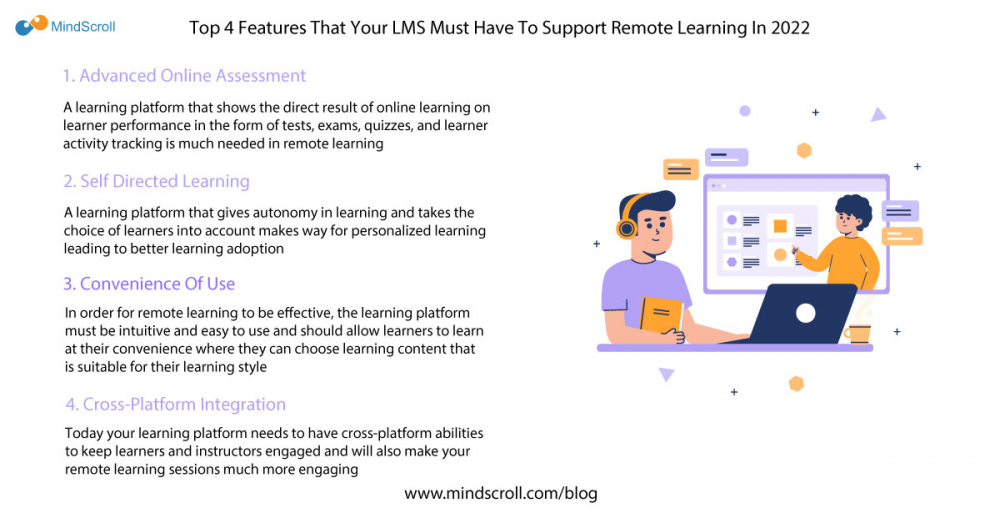 1. Advanced Online Assessment
Many times learners find it difficult to be motivated and engaged in remote learning. For instance, many learners may find it hard to find the motivation to do their coursework. It is also possible that the objectives of online courses are not as straightforward as traditional offline courses. It can also be difficult to engage with lessons when no instructor is physically present to facilitate and monitor training sessions.
A learning platform that shows the direct result of online learning on learner performance in the form of tests, exams, quizzes, and learner activity tracking is much needed in remote learning. As it can be difficult for learners to find the motivation to do better in a remote learning environment. Plus connecting the training to their performance can result in high adoption as it helps learners to understand the direct impact of their learning efforts.
Through MindScroll LMS's advanced assessment capability, you can easily conduct and assess online tests, quizzes, and actionable reports for your training courses. So trainers can easily interact with learners and you are able to show learners the direct result of training on their performance. You can individually see your learner's performance and instantly provide feedback and reminders with custom notifications and reports. This will give your learners a more comprehensive learning experience as their learning needs are addressed personally. Learn more here.
2. Self-Directed Learning
A learning platform that gives autonomy in learning and takes the choice of learners into account makes way for personalized learning leading to better learning adoption. There are great benefits in terms of learner engagement and productivity when an LMS is able to curate content based on learner choices. In remote learning, providing your learners with the ability to select their own learning journey that is relevant to their interests, job role, designation, and experience will equip them to achieve their career goals. Further, with the coming of the pandemic, many professionals invested 53% more time in upskilling themselves according to the LinkedIn Learning Report 2020.
With MindScroll LMS's powerful LXP feature you can deliver personalized self-directed learning pathways to learners with a curated list of courses and AI-enabled course recommendations that match their job roles. Learn more here.


3. Convenience Of Use
In order for remote learning to be effective, the learning platform must be intuitive and easy to use. It should be easy to move from one section to another, find the help menu, and interact with instructors. Since learners will most likely not use technology that seems hard to navigate.
The learning platform should also allow learners to learn at their convenience where they can choose learning content that is suitable for their learning style. This kind of flexibility provides a personalized learning experience. It is also important for an LMS
With MindScroll LMS's modern and intuitive interface, learners can access LMS on any device at their convenience. The easy-to-use admin panel provides an unparalleled user experience for LMS admins. Further, MindScroll allows admins to upload learning content in different formats like PDF, audio, videos, etc, and learners to access learning content any number of times which all facilitates self-learning. Learn more here.
4. Cross-Platform Integration
Today your learning platform needs to have cross-platform abilities to keep learners and instructors engaged. An LMS that supports cross-platform integration will make your remote learning sessions much more engaging. For example, integration with video conferencing tools helps learners quickly come together for live virtual training sessions.
With MindScroll LMS's integration with Zoom, MS Teams, and Google Meet, learners can easily have live virtual classes with instructors. This is a great feature since when learning remotely, having live interactions with instructors can be hard. Plus learners can take notes with the LMS and use the in-built chat feature to communicate with their instructors and peers. Learn more here.
Final Thoughts
So, these are the top 4 benefits of using an LMS for remote learning that can help you make training sessions more accessible and interactive, improve learner performance, and deliver a successful and productive remote learning experience for all. Schedule a demo if you want to know how you can use MindScroll LMS for your organization's remote learning needs.
Did you like this blog post? Does your LMS fully support remote learning? Do you know of any other must have LMS features for remote learning? Tell us your thoughts or share this blog post on our social media platforms below:
Facebook (@MindScroll) | Twitter (@mindscroll_lms) | LinkedIn (@MindScroll) | Instagram (@mindscroll_lms)
Check our blog for resources you and your team may need.
Read next: Top L&D trends to watch out for in the year 2022
---
LMS, Learning Management System, Cloud LMS, Open Source, Moodle Alternative, Learning Platform, Virtual Classroom, Latest Technology Trends, Learning Technologies, Corporate LMS, Personalized Learning, Virtual Meeting, TMS, Training Management System, Online Assessments, Elearning