The post-pandemic world led to many changes in the L&D space with many organizations adapting their training strategies in their own way. Hybrid working, remote onboarding, and online training have all helped drive new trends and innovations in the L&D industry.
Some of the trends mentioned below are not exactly new concepts. But we'll explain why we expect them to become more popular in the year 2022. Let's jump right in and see what the topmost 2022 L&D trends are and the role of LMS as the driving force behind it all:
1. Hybrid workforce training
2. Personalized learning
3. Microlearning
4. Gamified learning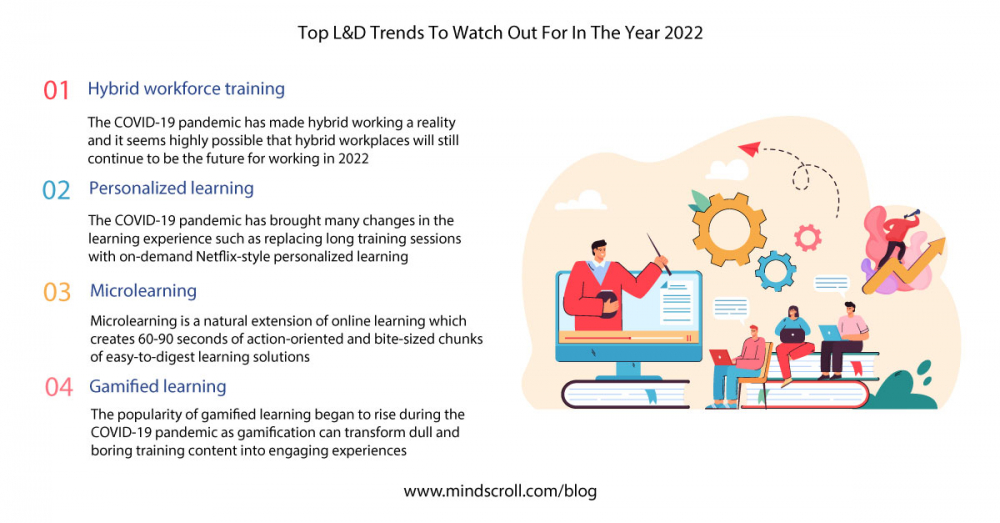 1. Hybrid workforce training
The COVID-19 pandemic has made hybrid working - the combination of working from home and in the office a reality for many organizations. A recent Gartner study has shown that 48% of employees will most likely work remotely for at least part of the time post-COVID-19. Moreover, according to a Quantum Workplace study, 30% of employees considered themselves hybrid employees along with 35% of employees reported working remotely in June 2021. So it seems highly possible that hybrid workplaces will still continue to be the future for working in 2022 and beyond.
However, the growing shift to hybrid working presents some unique challenges. Employee skill set requirements have changed and there is a greater need for upskilling and reskilling in many organizations as per the 2022 L&D Global Sentiment Survey. 87% of organizations are also experiencing skills gaps currently or expect them within the next five years according to a McKinsey & Company survey.
There are also challenges in the delivery of training which include employee engagement, internet connectivity, and platform/device compatibility. Plus with the hybrid model, there is a need to focus on communication and inclusion to help remotely working employees feel like part of the organization. There is also a need to reassess training using a blended learning approach with more emphasis on self-paced online training + VILT rather than in-person training (ILT).
With robust digital learning management platforms like MindScroll LMS, organizations can easily reskill their employees along with upskilling on topics such as compliance/leadership/product training, and more. Organizations can also use live virtual classrooms with MindScroll's integration with web conferencing tools like Zoom and Microsoft Team which makes it possible for employees to get the training and knowledge they need anytime anywhere which they can apply immediately while on the job. Learn more here.
2. Personalized learning
The COVID-19 pandemic has brought many changes in the learning experience such as replacing long training sessions with on-demand Netflix-style personalized learning which caters to individual schedules and needs and offers just-in-time/adaptive learning. Many users now prefer a more interactive, engaging, and intuitive self-paced learning experience that has a mobile-friendly design, easy access to videos, powerful searchability, and more.
Today 93% of companies strongly agree that personalized learning helps improve organizational as well as individual performance according to the Brandon Hall Group's 2021 State of Learning Practices Study. Personalized training is more effective than traditional training as employees can select what they want to learn and when they want to learn it. It also helps with knowledge retention and application as it is more focused and interactive. Employees also learn more often, become more productive, and go through the most effective learning paths based on their individual performance and content interactions.
Using MindScroll LMS's powerful LXP feature can provide personalized on-demand learning paths to employees with a curated list of courses and AI-enabled course recommendations which actually relate to their jobs and keep them better engaged. Learn more here.
3. Microlearning
Microlearning has recently been the most talked about training method. Microlearning is a natural extension of online learning which creates 60-90 seconds of action-oriented and bite-sized chunks of easy-to-digest learning solutions personalized for each learner. Moreover, the RPS Research has shown that microlearning improves information retention by 80%. A report by Software Advice has also shown that microlearning enhances learner engagement by 50%.
Micro bite-sized content in the form of short and focussed interactive modules, short videos, innovative games, etc usually just takes 5-10 minutes to finish. So it fits into the schedules of busy employees and ensures that they participate in mandatory trainings. Microlearning can help maintain employee motivation and meet evolving learner needs better than traditional training. Plus, it is easy to reuse and repurpose training and get creative since microlearning comes in several formats. This is why microlearning will continue to lead the L&D industry in 2022.
4. Gamified learning
Gamified learning is not a new concept in the L&D industry, however, its popularity began to rise during the COVID-19 pandemic. The reason is simple. Gamification can transform dull and boring training content into engaging experiences. It is a proven method to greatly improve learner engagement and motivation which is much needed to upskill employees during the pandemic. Further, with hybrid and remote workplaces, organizations face engagement and learner disconnect challenges which can be resolved to a large extent with the gamification approach.
Besides encouraging healthy competition among employees and increasing employee engagement, gamification can do a lot for corporate training needs. Such as improved course completion rates, better training recall and retention, enhanced proficiency, faster application of acquired knowledge on the job, and more. Gamification will also continue to play an important role in developing skills like leadership, teamwork, communication, negotiation, and stress management.
Moreover, with many success stories, lower costs, and shorter time to design and deploy, it's no wonder that gamified learning solutions will continue to shine and be an essential trend in 2022 to take all types of corporate trainings to the next level.
Learner experiences can effectively be gamified with MindScroll LMS's gamification feature that include a system of rules, points, badges, and leaderboards to increase employee participation and engagement levels. Learn more here.
Final Thoughts
So, these are the top 4 trends that will continue to drive learner engagement and performance and dominate the L&D industry in 2022. Organizations will benefit immensely from strong workplace cultures and employee performance as a result of this digital transformation.
Did you like this blog post? Do you know of any other trends that we missed? Tell us your thoughts or share this blog post on our social media platforms below:
Facebook (@MindScroll) | Twitter (@mindscroll_lms) | LinkedIn (@MindScroll) | Instagram (@mindscroll_lms)
Check our blog for resources you and your team may need.
Read next: Case Study: How MindScroll LMS became the preferred platform for offering UGC compliant online courses for Guru Jambheshwar University?
---
LMS, Learning Management System, Micro Learning, Cloud LMS, Open Source, Moodle Alternative, Learning Platform, Gamification, Virtual Classroom, Latest Technology Trends, Learning Technologies, Corporate Learning Strategy, Corporate LMS, Personalized Learning, Mobile Learning, MLearning, Learner Engagement, Millennial Workforce, Virtual Meeting, TMS, Training Management System, ILT, Instructor Led Training, Blended Learning, Training Administration, Elearning